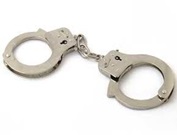 Warrant, meth and alcohol arrests reported over the weekend….
-A Washington man was arrested by Indiana State Police on Saturday on a warrant for a petition to revoke a suspended sentence.  Bond for 32-year-old Eric M. Logston was set at $25,000.
-A Greene County resident was arrested Saturday for possession of meth.  State Police charged 32-year-old Anthony W. Kelley of Switz City with the crime.  Bond was posted.
-Washington City Police on Sunday charged 30-year-old Arnulfo Dubon Orellan with operating while never licensed and two counts of operating while intoxicated.  Bond was posted.