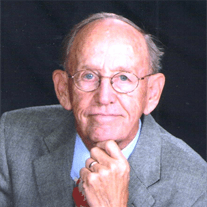 Leo Albert Johnson Jr., age 83, of Washington, passed away on April 30, 2016 at 11:29 a.m. at Prairie Village Living Center. 
He was born on August 30, 1932 in Toledo, Ohio, to Helen (Rose) and Leo Albert Johnson, Sr.
Leo was a 1950 Washington High School graduate, a US Air Force Veteran, a 1958 Vincennes University graduate and a 1960 IU graduate. He was a member of the Washington Country Club, Washington American Legion, and a life member of the Air Force Association. He retired from General Electric in Mount Vernon, Indiana where he was a Traffic Manager. He served as a past president of the Garden Club of Briny Breezes, Florida and was active with the BBC TV station in Briny Breezes, as well. He was an avid golfer and was a WWII and Civil War buff, and a member of the Daviess County Civil War Round Table.
He is survived by wife, Mary Gene (Kennedy) whom he married on September 4, 1960; daughter, Kelly Gene (Donald) Patterson of Holt, MI; two grandchildren, Katherine Patterson and Ian Patterson; and a brother, Edmund Johnson of Washington.
Preceding him in death were his parents, a brother, Bob Johnson, and a sister, Eleanor Dial.
Funeral services will be on Thursday at 11:00 a.m. at Ed Lee Mortuary with Pastor Kenneth Wells and Yvonne Evans officiating. Visitation will be from 4 – 8 pm on Wednesday at Ed Lee Mortuary. Burial will follow at a later date.
Leo's family would like to thank the staff at Prairie Village for their incredible care and support and to Helping Hearts Hospice for making his final days comfortable. Memorial contributions may be made to the Garden Club of Briny Breezes, 5000 N. Ocean Blvd., Briny Breezes, FL 33435.