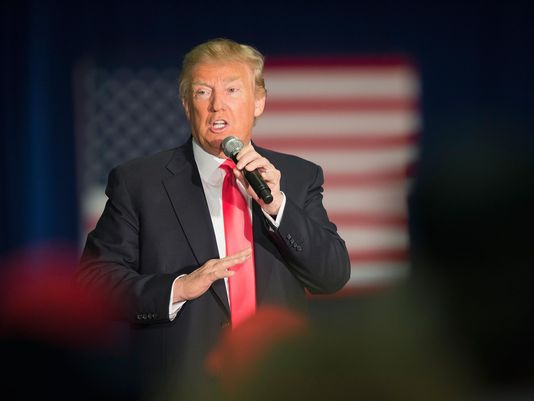 He was half an hour late, but Donald Trump still appeared to give his first Indy campaign rally crowd what they were looking for.
(photo from Indystar.com)
Starting a speech that had been planned for 3:00pm at 3:30, the Republican presidential frontrunner bounced between several topics, culminating with his customary "make America great again" catchphrase. He also alternately told a crowd of about 2,500 at the Blue Ribbon Pavilion of the Indiana State Fairgrounds that parts of the U.S. were great, but also that "the country is going to hell."
Among the topics covered by Trump during his rambling, 55-minute speech, building a wall on the Mexican border. "We're going to have strong borders, we're going to build that wall," Trump said as much of the crowd started a "build that wall" chant. Mexico was also a frequent target due to Carrier's earlier decision to close two Indiana plants, shifting a total of 2,100 jobs to Mexico. Trump said the move wouldn't have been made had he been president, and that led to one of the few policy positions mentioned during the speech – his proposal for a tariff on companies who move to other countries, then try to sell their products in the U.S. "I'll call up the head of Carrier and say congratulations, you're moving to Mexico. … I hope you enjoy the plant. I hope you enjoy the hot weather, but you're leaving Indiana and we're going to protect the state of Indiana."
A day after his win in the New York primary after which Trump appeared to pivot to "general election mode", with less criticism of his Republican challengers, he was back to referring to Ted Cruz as "Lyin' Ted" through the Indianapolis speech. He also ripped the media, much to the delight of the crowd. "They are the worst!" he said. "…And they know it. They know it. Because they're not stupid people, but they're very dishonest people." Trump later amended the comment to saying he "loved" the media, who have given him the lion's share of attention throughout his campaign.
Prior to the speech, Trump spent roughly an hour at the governor's mansion meeting with Governor Pence, and Trump complimented Pence during his speech, a compliment that was cut off by one of several protesters who were escorted out of the pavilion.