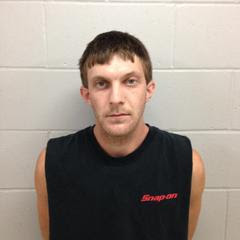 Dylan Day arrested Tuesday in Daviess County
A Martina County man is facing numerous charges after being arrested Tuesday on warrants and for new drug charges.
As Martin County Deputy Tony Dant was taking an inmate from the jail to the courthouse in Daviess County at 9-am Tuesday, he saw 20-year-old Dylan J. Day of Loogootee in the vehicle in front of him.  He knew Day was wanted on warrants. Since Dant was in Daviess County he enlisted the help of Daviess County Deputy Aaron Harbstreit.  Day was arrested on the warrants.  Harbstreit asked State Police Trooper Jarrod Lents to transport Day to the Martin County Jail. Lents asked Day several times if he was in possession of any drugs. Day said no.  but as Day's property was being gone through at the Martin County Jail, the trooper found meth.
Day is charged with possession of meth and false informing.
The numerous warrants on Day were for drug possession as well as child molesting and sexual misconduct with a minor and neglect of a dependent.  He was also wanted for operating while intoxicated and driving while suspended.