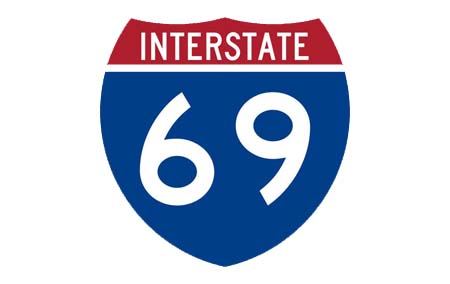 The 27-mile long Section 4 of Interstate 69, between Bloomington and Naval Support Activity Crane will open Wednesday, December 9th. Governor Mike Pence is expected to attend the ribbon-cutting ceremony at the WestGate Academy at the WestGate at Crane Industrial Complex beginning at 11:00 a.m. Wednesday. The motorcade will then travel along the newly opened section of I-69 to the State Road 37 interchange just south of Bloomington.
The first three sections covering 67 miles between Evansville and Crane opened in 2012.
Section 5 is now under construction and follows the path of existing Indiana 37 between Bloomington and Martinsville.
State Highway Officials are holding meetings this week to take public comments about the five proposed routes for the highway's final section between Martinsville and Indianapolis. A final recommendation isn't expected until 2017. Two proposed routes go north from the current Indiana 37 around the town of Mooresville, hooking up with I-70 just west of Plainfield. Another route follows the Indiana 37 corridor to I-465.