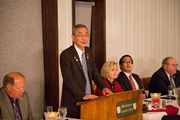 "It's been a very beneficial day and one that we hope will be the beginning of a new relationship," said Becky Skillman, CEO of Radius Indiana, commenting on the conclusion of a day-long trip Nov. 9 to Daviess County and the city of Washington with Toshiyuki Iwado, Consul General of Japan (Chicago consulate) and Keizo Shirakura, Consul and Director of Economic Affairs.
"We are very interested in strengthening ties between Indiana and Japan," said Consul General Iwado.
Washington Mayor Joe Wellman and Ron Arnold, executive director of the Daviess County Economic Development Corporation, hosted the extensive visit.  Skillman mentioned that Indiana is home to more than 250 Japanese companies, who employ more than 52,000 associates. "That's something we don't take lightly," she said, adding that the day marked an opportunity "to build upon the strength of the existing partnerships between Indiana and Japan." As Indiana's Lt. Governor, Skillman had previously led an economic development mission to Japan in 2011.
The Consul General and the Daviess County contingent began the day at the WestGate @ Crane Technology Park and were able to take in the surrounding technology and defense-related facilities. From there they proceeded to Washington, where they viewed various developments in the region, including the new construction and companies on the east side of Washington adjacent to I-69. The group then visited the Washington public and private school systems, as well as conducting a short tour of the city. The day concluded with a private dinner at the Washington Country Club, which was attended by several state, county and local officials and business leaders.
Wellman and Arnold visited the Consul General in his Chicago residence earlier this summer to lay the foundation for the November 9 visit.  "Many potential opportunities exist for Washington and Daviess County and possible relationships with Japanese businesses, and we were able to showcase our assets for the Consul General and his senior representatives," said Wellman. "Now we look forward to building on our developing friendship."
The evening event included a number of presentations by Mayor Wellman, Skillman and the Consul General. The Consul noted that when the Japanese get involved in a region and community, they bring the whole heart and integrate into the local communities. He explained that while he had only been in the Chicago consulate for eight months, the Washington trip represented his sixth trip to Indiana. Today's trip, however, was the first to southern Indiana.
"Consul General Iwado and Consul Shirakura were warmly welcomed to the region," said Arnold. "They were given the opportunity to see the real depth of capacity and growth potential in our Daviess County communities and businesses."
The Japanese contingent was accompanied by Garry Petersen, president of William-Lynn-James, and Larry Ingraham, president of Ingraham & Associates, who helped arrange the southern Indiana visit.
"Southern Indiana is home to many remarkable opportunities for potential collaboration between Japanese companies and Indiana businesses," said Petersen. "Today's visit represented a chance to begin to explore those opportunities in an appropriate fashion." He added that the opening of I-69 offered new broad access to the technological and agribusiness assets of the region.
At the evening gathering both the Washington Mayor and the Consul General remarked on the unusual appearance of a massive rainbow toward the end of the day. "I was amazed," said Consul Iwado, joking about the mayor's apparent control over the weather.
The Consul General also thanked Theresa Kulczak, executive director of the Japan-America Society of Indiana, for her help in supporting the Daviess County meetings and the Consul's southern Indiana visit.
The Mayor presented a variety of gifts to the Consul General to commemorate the visit, including a basketball hoop and signed basketball by team members from Washington High School and Washington Catholic High School, as well as commemorative items marking the city of Washington's upcoming bicentennial celebration.
Following the presentations at the formal event, Mayor Wellman asked those attending to stand and introduce themselves and their role in the community.
A partial list of people attending the evening Nov. 9 event included:
Mayor Joe Wellman; Radius Indiana CEO Becky Skillman; Mayor Joe Yochum (Vincennes); Mayor R.C. Klipsch (Petersburg); Mike Healy, Town of Montgomery; Kevin Shake, Town of Plainville; Michael Taylor, Daviess County Commissioner; Allan Brown, Washington City Council; Blake Chambers, Washington City Council; Jerry Sidebottom, Washington City Council; Sheriff Jerry Harbstreit; Ron Arnold, Daviess County Economic Development Corporation (DCEDC); Brian Blackwell, NSWC Crane; Michael Mitchell, NSWC Crane; Thomas Graham; Bill Konyha, Indiana Office of Community and Rural Affairs; Greg Jones, Southern Indiana Development Commission; Shane Blair, Battery Innovation Center (BIC); Richard Newkirk, BIC;  Theresa Kulczak, Japan-America  Society of Indiana; Dennis Helms, Daviess County Surveyor; David Bixler, Daviess Community Hospital; Duane Embree, Indiana Department of Defense Development; Ray Crawford, Daviess County Airport; Jack Miles, Daviess County Airport; Peter Boyle, Geneese & Wyoming Railroad; Keith Collier, Indiana Southern Railroad; Dave Sutter, Daviess/Martin REMC; Chuck Martindale, Hoosier Energy; Dan Roach, Washington Community Schools; Travis Madison, Barr-Reeve Schools; Father Gordon Mann, Washington Catholic Schools; Robert Bell, North Daviess High School; Tony Graber, Graber Construction; Michael Chestnut, Home Building Savings Bank; Phil O'Haver, DCEDC (vice chair); Judge Gregory Smith; Michael Snyder, MEK Group; Jamie Snyder, MEK Group; Natalie Smith, Daviess County Economic Development Foundation; Darla Miles, DCEDC; Vic Hopkins, Hopkins Agency; Garry Petersen, William-Lynn-James; Randy Pippen, William-Lynn-James; Larry Ingraham, Ingraham & Associates.