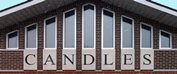 A Vigo County museum founded by a Holocaust survivor has purchased a building in downtown Terre Haute for a possible expansion of the museum.
The Tribune-Star reports the building would quadruple the current size of the CANDLES Holocaust Museum and Education Center if it's used for that purpose.
Holocaust survivor Eva Kor founded the museum that's dedicated to understanding the impact of hatred and prejudice in 1995.
An arsonist burned it to the ground in 2003, but a new museum was built and opened at the site in 2005.
Kor's family was taken to the Auschwitz concentration camp in 1944 with other Jewish prisoners.
She and a twin sister survived medical experiments overseen by the sadistic Nazi doctor, Josef Mengele, but their parents and two older sisters died there.