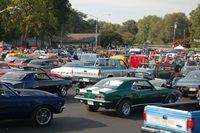 It's car fest and cruise-in weekend in Washington.
The 20th Century Chevy Club's 38th annual event consists of a Cruise of classic vehicles through Washington Saturday starting and ending at East Side Park.  The Car Fest is Sunday where awards will be presented to the top 100 vehicles and there are 16 other special awards.
There is also a silent auction which raises money for great causes.  Dave Frye with 20th Century Chevy tells us more..
There's no admission charge at the park.
Remember that Memories 107.9 is your official radio station for the weekend's events as we will have live coverage throughout the weekend.
The weekend gets kicked off tonight with a special concert from Ed Rodimel and his "One Man Monster Show" on the Memories Patio of the Washington Country Club. That happens from 9 to midnight tonight.