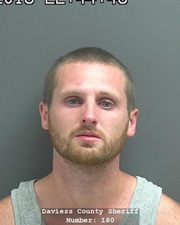 A Bicknell man was arrested on Tuesday for possession of a schedule 2 controlled substance.  The Daviess County Sheriff's Department took 27-year-old Danny R. Christenberry into custody and he was jailed at the Daviess County Security Center without bond.
---
(mugshot not available)
A Washington man was arrested by State Police Tuesday on several charges.  45=year-old Mark L. Harding of Washington is charged with possession of meth, domestic battery and for a writ of attachement.  Bond was set at $22,000.
---
(mugshot not available)
An Illinois man was arrested in the overnight by Washington Police.  32-year-old Michael A. Taylor of Lawrenceville, Illinois is charged with operating while intoxicated with a controlled substance, OVWI with endangerment, possession of meth and possession of marijuana.  Bond was set at $2500.