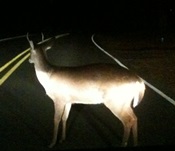 The odds of hitting a deer for Indiana motorists isn't getting any better as they increased from 2014 to this year.
State Farm Insurance collected the data and found that the odds of an Indiana driver hitting a deer are now 1 in 142.
The numbers also mark the second straight year that odds have increased by more than 20%. In 2014 the odds were 1 in 172.
Indiana ranks 23rd for most deer collisions with the average claim at just over $4,000. The data also shows that October, November, and December are the most likely months we will hit a deer.