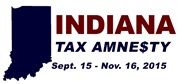 Learn more locally through the Chamber of Commerce on September 25th.
The Indiana Department of Revenue today launched Tax Amnesty 2015.
It's an opportunity for both individual and business taxpayers to pay past-due taxes free of penalty, interest and collection fees.
Department of Revenue Spokesperson Katie Mclear estimates there are over 200-thousand people in the state who owe past taxes and all are eligible as long as they have not participated in a past amnesty program.
The program runs through November 16, 2015.
The Daviess County Chamber of Commerce has partnered with the state department of revenue for a free 30 minute seminar to be held on September 25th at 11:30 at the Washington Eagles.
It's open to any business what wants to learn more about the Tax Amnesty Program or the Daviess County Chamber. 
You can sign up for that seminar now.  Just call the chamber at 812-254-5262.  There'll be a catered meal.  You are asked to RSVP by the 21st.