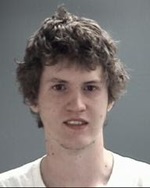 On September 14, 2015, at 5:01 p.m. the Gibson County Sheriff's Office received a report of a 911 of battery that had just occurred in Hazleton, Indiana. The 911 caller reported that the suspect 21 year old Daniel Decker had left the scene and was walking towards the cemetery located at SR 56 and Dead Level Road.
When Deputy Bryan Small arrived on scene he was able to locate the victim and could see visible evidence of the incident. Upon collecting statements at the scene Deputy Smith was able to locate Mr. Decker in Princeton, Indiana where his statement was also obtained. At the end of Deputy Small's investigation Daniel Decker was taken into custody and transported to the Gibson County Jail.
Daniel Blake Decker is being charged with Battery, Strangulation, and Criminal Confinement. He remains in custody on a $750 bond.