(mugshot unavilable)
A Washington woman was jailed Wednesday for minor possession of alcohol.  20-year-old Sarah A. Dykes was booked into the Daviess County Security Center on $2000 bond.
---
(mugshot unavilable)
22-year-old Dillion J. Baugh of Washington was arrested Wednesday for operating a vehicle while intoxicated refusal and OVWI with endangerment.  Bond was set at $2000.
---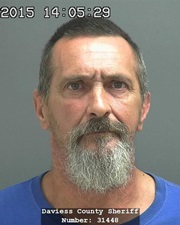 54-year-old John s. Brock of Odon was jailed overnight for possession of meth.  That arrest was made by State Police.  Bond was set at $2500