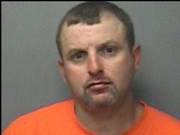 Pike County authorities responded to a weekend accident of the White Oak Community and made one arrest.
Officers say they went to the scene after a pick up crashed into a tree.  It had rolled prior to impact.  As officers were checking for occupants, another vehicle drove up and a passenger said the pickup driver was at his residence in Winslow.
Police went to the home.  The homeowner went in and came out with 40-year-old Billdy D. Thomas.  Thomas showed signs of being intoxicated and had blood on his clothing.  He failed field sobriety tests.  At the jail he tested .143.  Thomas was charged with operating while intoxicated and possession of a legend drug.