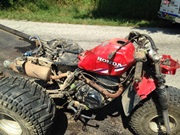 A Sunday ATV accident in Knox County injured a teen.
At 1:15-pm, 13-year-old Shaun Terry of Monroe City was operating a three wheeler on Hamline Chapel Road near the Campbell Road intersection.
Conservation officers say he failed to negotiate a turn and drove the ATV into an 8 foot ditch.
Terry had a head injury and was flown to St. Mary's in Evansville.
A passenger, 13-yaer-old Dylan Boland of Bicknell complained of back pain and was evaluated and released from Good Samaritan Hospital.
Officers say speed appeared to be a factor in the crash and neither boy was wearing safety equipment