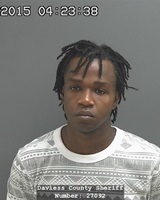 A Washington man was jailed on a warrant Thursday for sexual misconduct with a minor, child exploitation and dissemination of matter harmful to minors.
Washington Police report the investigation began on July 1st when they received information about the alleged crime involving a 14 year old girl.    A warrant was obtained and served yesterday afternoon on 3:34pm.
28-year-old Olmando Joseph was being held at the Daviess County Security Center on a $50,000 bond.