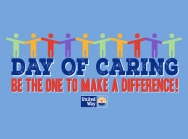 We are a little more than two months away from the annual Anniversary of United Way's Day of Caring, funded by the Daviess County Community Foundation.  This years marks the 20th anniversary of the event where volunteers, businesses, agencies and other organizations work to make improvements throughout the county.  Improvement include, fixing up, painting, minor repairs or even spending time with the elderly or children.
On September 29th Over 400 volunteers including 175 high school students are expected to attend a 7-am breakfast at the Washington Community Building. While in Odon things will start at 8:30 am that morning for work in Northern Daviess County.
As an anniversary project, Jason Petty, United Way Board member, will lead a team of volunteers in installing a Born Learning Trail at the City Park in Washington.  He said it will be an interactive, playful outdoor learning tool promoting early literacy and encouraging physical activity for young kids. The trail is part of United Way's Born Learning program, a long-standing initiative to support early learning and school readiness
"The United Way web site  (www.unitedwayofdaviesscounty.org)has more information regarding Day of Caring and the companies who put their work aside to give back to the community.
To volunteer, contact the United Way office at (812) 254-1038 or email uway1038@att.net.   If you are a non-profit and would like help with a special project please let us know no later than August 28.