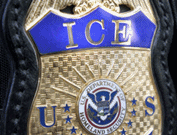 Federal agents arrested 280 criminal aliens including 47 here in Indiana during a month-long enforcement surge. Some of those were in our immediate area.
U.S. Immigration and Customs Enforcement Spokesperson Gail Montenegro says they targeted "at large criminal aliens." She says they all have past convictions for crimes that happened in the United States. The surge began May 18th and ran through June 13th.
Montenegro says they arrested aliens in Indiana, Illinois, Wisconsin, Kentucky, Kansas and Missouri. 272 of them are men.
Those arrested hail from 22 countries. In Indiana, the majority of the arrests were made in Indianapolis (21)
There was one each arrested in Washington, Vincennes, Ferdinand and Huntingburg as well as 1 in Evansville.