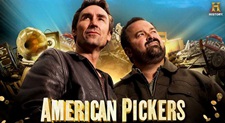 The American Pickers want to come to the area.
American Pickers is a cable tv show on the History Channel where hosts Mike Wolf and Frank Fitz scour the nation's junkyards, garages, barns and anywhere else where one man's junk and another man's treasure may be found.  The show highlights all kinds of antiques and the people and characters that collect and store or horde them.
Knox County Chamber of Commerce Director Marc McNeece says anyone that that might have items for the guys to come and  "pick" can contact The Knox County Chamber so a list can be compiled the show.  McNeece says it'll be for good exposure for  Knox County and bring in some business to hometown folks.
Also, Daviess County Chamber Director Samantha Bobbitt says she's been contacted by the show and Daviess County "picking" locations are also being sought.