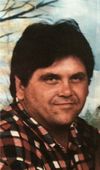 Timothy Thompson, 58, of Washington, died Tuesday at St. Mary's Hospital in Evansville.
Born July 29, 1956, in Daviess County, he was the son of Marvin and Eva Pearl (Holt) Thompson.
He was a member of Victory Tabernacle Church and was a truck driver at Perdue for 11 years.
He is survived by his wife, Judith (Roark) Thompson, whom he married March 30, 1990; a daughter, Aeryona Thompson of Washington; two stepdaughters, Terese Neidige of Washington and Dawnyell Neidige of Plainville; a stepson, Gary Eugene Neidige of Washington; six grandchildren; one great-grandchild; four brothers, John Thompson of Washington, Michael Thompson of Washington, Marvin Thompson of Peoria, Illinois, and George Thompson of Washington; two sisters, Kathy (Kenneth) LeFerce of Washington, and Gloria Thompson of Evansville.
He is preceded in death by four brothers, David Elwood Thompson, Jeremy Lee Thompson, Richard Thompson and Theodore Thompson; and his parents.
The funeral will be at 11 a.m. Friday at Poindexter-McClure Funeral Home, Washington Chapel, with Bro. Pete Aldrich officiating. Burial will be in Sugarland Memory Gardens.
Visitation is after 10 a.m. Friday at the funeral home.