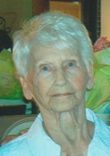 Rosetta Jo Scheid 92 formerly of Washington passed away on Friday, May 8, 2015 with her loving family by her side.
Rosetta was born July 27, 1922 to the late James Louis and Mary Ethel Killion Dougherty.  She was a 1941 graduate of Washington High School and member of Parkview Christian Church of Plainville.  July 27, 1944 she was married to Wilbur Scheid, who preceded her in death February 19, 1977.  Rosetta enjoyed cooking, playing cards with a group of friends, and working on the family farm.
Rosetta is survived by one son, Danny J. Scheid (Vicki) of Terre Haute; two granddaughters, Dawn Rudolph (Brad) of Forest City, NC. and Debra Crowder (Kent) of Attica; grandson, Scott Baker (Rita) of Greenwood; five great-grandchildren, Michaela and Cameron Rudolph, Caleb Crowder, Conner and Lilli Baker; one sister, Madge Burkhart of Montgomery.
Preceding her in death are her husband, Wilbur Scheid ; parents, James and Ethel Dougherty; a daughter, Rebecca "Becky" Scheid of Greenwood; a brother, Carl Dougherty of Plainville; two sisters, Eva Ragsdale of Elnora and Wilma Craney of Washington; a daughter-in-law, Delores "Dodie" Scheid of Sullivan.
There will be a visitation on Tuesday, May 12, 2015 at Gill Funeral Home from 11am until 1pm.  A service will immediately follow also at the funeral home with Pastor Alfred Helms officiating.  Burial will be in Plainville Cemetery.  Memorial contributions may be made to Parkview Christian Church of Plainville 12 2nd ST. Plainville, IN 47568. You may sign the online guestbook at www.gillsince1872.com.