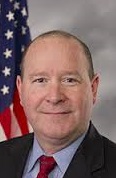 Congressman Larry Buschon (Boo-Shon) has been touring local businesses in the 8th District to support Small Business Week.
With 70 percent of people in the United States employed by small businesses, Buschon wants to highlight their contribution to the community and demonstrate how important they are to the U.S. economy.
Buschon believes it is important for Congress to understand the challenges small businesses face.
Buschon said Congress can do their part by having hearings and setting regulations among other things.
Buschon will continue his tour of small businesses throughout the week.