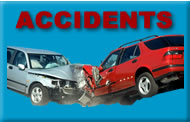 Two Perry County Women were Killed Monday Night in a Crash Near
Chrisney. According to State Police, 67 year-old Violet Patterson and a
passenger, Velma Bolin both of Cannelton died when Patterson was driving
east on State Road 70, just east of Chrisney, in a 2003 Toyota Echo. As
Patterson was approaching US 231, she crossed the southbound lanes but
did not stop in the paved section of median before proceeding across the
northbound lanes. As Patterson crossed the northbound lanes, Patterson
drove into the path of a 2001 Kenworth Truck, hauling a 38,000 pound coil
of steel. The driver, Billy Ray Widener, 37, Marion, NC, did not have time to
react or attempt to avoid striking Patterson's Toyota. Patterson and her
passenger, Velma L. Bolin, Cannelton, were both pronounced dead at the
scene by the Spencer County Coroner. Widener was transported to
Owensboro Health in Owensboro, Kentucky for evaluation.
Vigo County—This morning at 1:30, Indiana State Police and other
emergency services responded to a one-vehicle rollover crash in the
eastbound lanes of Interstate 70 near the 10.5 mile marker. The driver and
lone occupant of the vehicle was pronounced deceased at the scene.
Preliminary investigation revealed a 1999 Chevrolet Blazer was eastbound
on I-70, drifted off the north side of the roadway, overcorrected and
traveled back onto the roadway, ultimately spinning out of control and
rolling over in the median. An alcoholic beverage container was found in
the vehicle and toxicology results are pending. Seatbelts were in use.
The female victim is believed to be 38 years-of-age and from the state of
Missouri. The Indiana State Police and Vigo County Coroner's Office are
attempting to located family members at this time. The interstate was
closed for 30 minutes but has since reopened.