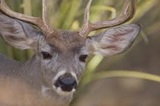 Indiana's deer harvest fell last year for the second consecutive season, but the Indiana DNR say that is not necessarily a bad thing.
Last year hunters killed just over 120,000 white-tailed deer, a 4.4% drop for from 2013.
Wildlife officials say that is to be expected after the DNR changed its deer management strategy several years ago to a more strategic approach.
In 2012 there was a record deer harvest of more than 136,000. The declining numbers could mean that the overall deer population is on the decline.