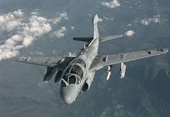 The Naval Surface Warfare Center at Crane is being honored with a retired EA-6B Prowler Aircraft.
The Navy is giving Crane the plane in recognition of the base's more than 40 years of tactical support to the aircraft and commitment to US troops.
The U.S. Navy's premier electronic warfare aircraft, makes its final flight to Bloomington, marking just the second Indiana landing in the plane's history and the only such retirement ceremony for a Navy plane ever held in the state.
The Prowler will receive an official military send off, including a flyover, landing and ceremonial taxi through water arches, and remarks from Rear Adm. Lorin Selby, commander, Naval Service Warfare Center, and Capt. Jeffrey "JT" Elder, commander of the Crane Base.
It's all happening Tuesday May 5th at the Monroe County Airport.