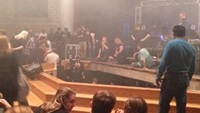 The last of 16 Indiana students injured when a stage collapsed during a high school musical performance is out of the hospital.
Westfield Police Captain Charles Hollowell says most of the students injured in Thursday's stage collapse at Westfield High School suffered minor injuries. The last student was discharged Friday.
Westfield Washington Schools Superintendent Mark Keen says the orchestra pit cover that collapsed was only a few years old.
Questions remain about whether it was ever subject to inspection. Indiana drafted rules on temporary, outdoor stage rigging equipment after stage rigging collapsed onto fans awaiting a performance by country duo Sugarland during the 2011 Indiana State Fair, killing seven people.
But state Homeland Security department spokesman John Erickson says those rules do not apply to schools' permanent, indoor stages.