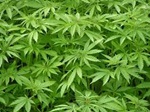 Efforts to help Indiana gain federal approval to grow and sell industrial hemp have died this legislative session.
Hemp isn't intoxicating, unlike its illegal cousin marijuana. It's used for legal products including clothing and oil, but cannot be grown under federal law without permission.
The latest measure would have excluded industrial hemp from the definition of marijuana. It also would have protected people who use hemp oil for medical treatments from criminal prosecution.
Senate committee members voted this month to strip those provisions and instead require further study on the issue this summer.
Bill author Republican Representative Don Lehe of Brookston says the changes came after prosecutors expressed concerns about relaxing Indiana's marijuana laws.
Lehe says he may bring the issue up next session.