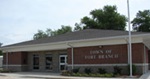 Parents in a Gibson County  town now face big fines if their kids leave their toys behind in the community's streets. (photo of Fort Branch town hall)
The Fort Branch Town Council approved a ban Wednesday on toys on its streets that will cost offenders $50 for their first offense and $100 for the second one.
The town's police department will determine what the penalty will be for a third or subsequent offenses.
Marshal Rick Sides told council members he recently saw two streets in Fort where pieces of steel and a pipe were set up as ramps for skateboarders.
He says kids have also been playing hockey and basketball in the streets and the problem is worsening, posing a public safety threat.