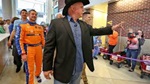 Country music star Garth Brooks says a new child play zone at a children's hospital in Indianapolis is a "miracle" that allows young patients to forget about their illnesses and just be kids.
Brooks attended a ribbon-cutting and dedication Tuesday for the Riley Hospital for Children's new Child Life Zone. That 4,200-square-foot space includes billiards, a play space with cushions, an arts and crafts area and even a recording studio.
The project was made possible by donations through the Teammates for Kids foundation, which Brooks co-founded in 1999. It's the nation's 11th and largest hospital Child Life Zone.
Brooks says the new space is "a place in a hospital where no doctors and no needles are allowed. It's a place where a kid gets to be a kid."
West Lafayette passed a resolution reaffirming its commitment to its human relations ordinances.