Resolutions passed by the commissioners and city council to help rid the county of derelict properties…also the Council agrees to buy new playground equipment for East Side Park
The branches of local government continue to work together in Daviess County and the City of Washington.   This time the joint venture involved blighted properties.
At Monday's Meeting of the Daviess County Commissioners, a joint resolution with the City of Washington, was passed to assign tax sale certificates from four blighted properties to the City of Washington.
Monday evening, the Washington City Council passed the same joint resolution plus a resolution assigning the certificates and property to the Daviess County Economic Development Foundation.
The Economic Development Foundation will demolish the derelict buildings and rejuvenate the properties so they can be returned to the active tax rolls.  Natalie Smith told the Commissioners that the Foundation has also acquired four other derelict properties for rehabilitation through other means.
Smith also said the $42,000 local governments have lost in unpaid taxes could be used to meet the match for the $425,000 Blight Reduction Grant.
Cleaning up the blighted areas and returning those properties to the tax roles will help the City and neighboring property owners by raising property values throughout affected neighborhoods.
---
The Washington City Council Monday approved the purchase and financing of  Park Superintendent Kip Kelly's request to replace some playground equipment at East Side park…  with the exception of the "ship".
Kelly told the Council the City's insurance company was concerned about the existing equipment which is
Mayor Joe Wellman comments…
The Mayor says the new equipment will be accessible for the disabled.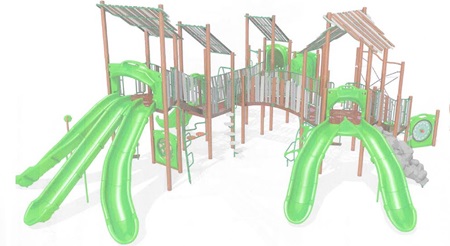 drawing of new playground equipment
In other action at the meeting….
the Council passed an ordinance prescribing the method to transfer City-owned property to not-for-profit entities.
Also, council heard the introduction of an ordinance setting the fee schedule for Water World of Washington and adopted the Daviess County Hazard Mitigation Plan presented by Emergency. Management Director Paul Goss.
Prior to the meeting Mayor Wellman swore in Jason Mann as Washington's newest reserve police officer.