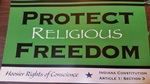 The Indiana House has approved by a wide margin a proposal that supporters say would add greater protections for religious objections into state law.
House members voted 63-31 Monday to support the Republican-backed bill would bar any state laws that "substantially burden" the religious beliefs of an individual, business or religious institution.
Supporters say it's modeled on a federal religious freedom law passed in 1993. Critics maintain it could provide legal cover for discrimination against gay people.
Democrat Leader Scott Pelath spoke against Senate Bill 101 when it was debated on third reading Monday afternoon. He argued the this legislation does nothing, except provide business for lawyers.
Rallies in support and against the bill have been held in the Statehouse in recent weeks, and clergy members have testified on each side.
The Republican-dominated Senate approved a version of the bill last month, and GOP Gov. Mike Pence supports it.