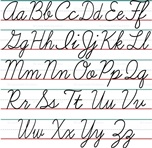 Senator Jean Leising  is trying at least once more to get cursive handwriting to be part of the state's school curriculum.
Every year, Leising (R, Oldenburg) introduces the cursive writing bill. Every year, it passes the state Senate, and every year it doesn't get a hearing from House Education Committee Chairman Bob Behning (R, Indianapolis), who thinks the bill is a waste of time. Leising was planning on skipping the bill this session, but she says she changed her mind after surveying her constituents at her website. "My first question on my survey was do you support or oppose the teaching of cursive writing in our schools. 95-percent said they support cursive writing," Leising told the Senate Education Committee before it passed the bill on an 8-to-2 vote.
Cursive is still taught in schools, but Leising wants a cursive standard for the state. She especially thought it was important when Indiana was one of the states adhering to Common Core standards, which does not include a cursive writing requirement. Indiana adopted its own standards last year, but they borrowed heavily from Common Core, and Leising wants to make sure children can write and read cursive since research shows it helps with brain development. "It's my understanding that the states of Alabama, California, Georgia, Massachusetts and Kansas have added cursive writing to their curriculum," Leising said.
Other lawmakers agree with Behning in that the legislature needs to spend time on more serious topics. "I have never voted for this bill, and I don't ever want to vote for this bill. But I am willing to vote for this bill today if you promise me you will never bring this bill back again," said Sen. Carlin Yoder (R, Middlebury). Leising would not make that promise, alluding to the annual ignoring of the bill by the House, so Yoder again voted against it.