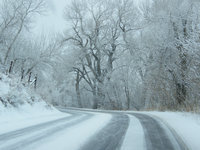 Continue to be careful…..
Roads remain snow and ice covered and slick and hazardous.  Schools were out again today and various college, industry and businesses delayed openings and start times today.
Daviess and Martin Counties are under official travel watches today.  That means essential travel only is recommended such as to and from work and for emergencies.
 Knox, Gibson and Pike counties are under travel advisories meaning routine travel or activities may be restricted in areas because of a hazardous situation, and individuals should use caution or avoid those areas.
Across southern Indiana there were over 200 accidents involving slide offs and collisions reported on Monday.  No serious injuries believed in those accidents.
For updates on the travel status of a county go to….http://www.in.gov/dhs/traveladvisory/