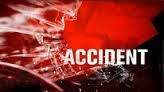 Two people were injured when they served to miss a deer on I69 at the 74 mile marker early Sunday.
The crash happened at just before 3-am when Barry Collins 63 of Elletsville was traveling north and the deer ran onto the interstate. He served and went off the west side of the road and came back on the highway and then went off the east side. His 2014 Kia Sorento SUV went down an embankment, rolled several times and landed on it's wheels.  He complained of pain while a passenger, 62-year-old Martha Collins suffered a possible broken arm and was taken to Bloomington Hospital.   The vehicle was totalled.
—
No injuries in a Saturday night crash in front of a residence at 370-East and 150 North.  An S10 Pickup driven by 17-year-old Caleb Lankford was west bound on a sharp curve.  He said an east bound vehicle was rounding the curve with bright lights.  Lankford said he drove over too far and hit a utility pole.