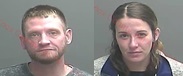 Two people being sought in connection with an investigation into what was initially described as an armed robbery/carjacking have been arrested.
        VPD Chief Dusty Luking reported that 38-year-old Ricky L. Brochin II and Tera Robinson were taken into custody last night.  Brochin II charged with Armed Robbery and Robinson with Conspiracy to Commit Armed Robbery.
        The alleged incident happened Tuesday when the Vincennes Police Department responded to a complaint of an Armed Robbery and Car Jacking. The incident occurred in the 200 block of Broadway Street in Vincennes.  Luking put out the call to the public about the two suspects in the case.  
Both were arrested and booked into the Knox County Jail at 6 last (Thurs) night.