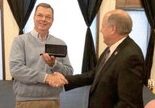 (photo from Washington Times Herald)
Outgoing Daviess County Economic Development Corporation Executive Director Ron Arnold was presented the Key to the City Thursday.
        Mayor Joe Wellman made the presentation as around 100 people turned out to a reception honoring Arnold.  Officials at the event said Arnold had a huge impact on the community in his 17 years at the helm of the DCEDC.
      The Washington Times Herald   (www.washtimesherald.com)  reports many spoke about Arnold's accomplishments including expansion of GPC, bringing in new business and helping with development of the Crane Tech Park.  He was instrumental in getting Olon Corporation to stay in the county.
        The newspaper quotes Arnold saying he'll continue working as an independent consultant in economic development.