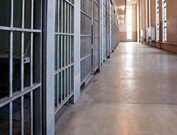 -A Montgomery man was jailed after a Daviess County Sheriff's Department investigation Monday.  32-year-old Chase E. Gray-Helms is charged with Battery.  No bond wa set.
-61-year-old Terrell C. Miller of Montgomery was arrested by the Sheriff's Department yesterday for Criminal Recklessness with a Deadly Weapon.  No bond was set.
-Washington Police charged 47-year-old Thomas W. Kelsey of Washington with Disorderly Conduct yesterday.  No bond was set.  He was apprehended following an investigation at 9:30 last night on Northwest 6th.
-A vehicle break in was investigated on Vincennes Avenue Monday morning.
-The Sheriff's Department looked into a Breaking and Entering report from Ridge Court yesterday morning.