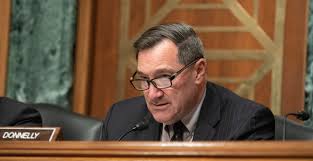 Thursday U.S. Senator Joe Donnelly at a Senate Banking Committee hearing, discussed a number of consumer protections that became law as part of the Economic Growth, Regulatory Relief, and Consumer Protection Act in late May.
Donnelly negotiated, co-wrote, and helped introduce the bipartisan regulatory relief package last year, and supported its passage in the Banking Committee and full Senate. President Trump called the legislation "a very, very important bill."
The new consumer protections highlighted today that are now law include:
 Responding to the Equifax Breach: This provision allows consumers, free of charge, to freeze and unfreeze their credit and set year-long fraud alerts. The Federal Trade Commission and the major credit bureaus must set up webpages where consumers can easily freeze their credit, set a fraud alert, and opt-out of pre-approved credit offers. Donnelly pursued these reforms to protect consumers after the massive Equifax data breach that may have compromised the personal information of approximately 145 million Americans.
 Protecting Servicemembers: This provision provides free credit monitoring for all active-duty servicemembers.
 Protecting Veterans Credit: This provision, based on a bipartisan bill Donnelly previously introduced, ensures veterans are not wrongly penalized by medical bill payment delays by the Department of Veterans Affairs.