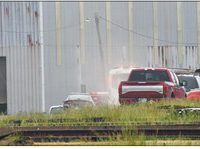 (photo from Washington Times Herald)
   An internal investigation will be conducted into yesterday morning's minor explosion inside a rail car that Eagle Railcar Services employees were working on.
        Washington Fire Chief Dave Rhoads says the gas explosion was related to the use of a cutting torch.
        Fire, police and First Responders all responded to what was initially dispatched as a mass casualty call, however that call was cancelled a few minutes after the 9:28-am dispatch. 
        Two people suffered minor injuries.