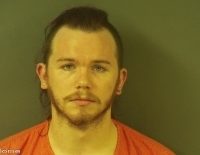 A report of two young kids playing in the street wearing only their diaper led to a startling discovery at a home near Cloverdale. A concerned citizen saw two boys, ages 2 and 3, wearing only their diapers while playing and appearing very unclean. That citizen called police and the father took the boys inside shortly after police were called. 
When police got to that father's residence, they discovered an overwhelming smell of urine and feces, soiled diapers, and numerous other unhealthy and dangerous environmental hazards. Police also found another 4-month old child lived there. 
The father, 24-year-old Robert Henline, was arrested on a felony charge of felony neglect of a dependent. The 26-year-old mother of the three assisted the Department of Child Services with relocation of the children to a safer environment and is expected to be summoned into Putnam County Court on similar charges.