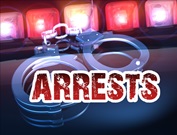 -The Daviess County Sheriff's Department picked up 41-year-old Shirley D. Coker of Loogootee on a warrant for theft on Monday. Bond was posted.
-Indiana State Police took 40-year-old Matt Gabhart of Montgomery into custody Monday for Public Intoxication, Possession of Marijuana and Possession of Paraphernalia.
-31-year-old Michelle Furman of Washington was arrested by Washington Police for 3 counts of Operating While Intoxicated including with a Controlled Substance and with Endangerment.  She's also charged with Operating while Never Licensed.  No bond was set.
-Washington Police arrested a man Monday for Possession of a Throwing Star.  43-year-old Timothy D. Sheckles of Washington posted bond.
-A Loogootee woman was arrested by state police overnight on a warrant for Failure to Appear.  Bond for 39-year-old Heather A. Brummett was set at $2500.
-Vincennes Police investigated a Trespassing complaint at Maple Park Apartments at 1:35 Monday afternoon. 34-year-old Anthony Lewis Smith was arrested for Possession of Marijuana and False Informing as a result of the call.
-Jeremy Cooper, 26 years old, was jailed in Knox County for Domestic Battery in the Presence of a Child.  He was booked at just before 11 last night.
-Vincennes University Police charged 19-year-old Deointe Sullivan with Battery and Disorderly Conduct. Sullivan was jailed at 7 last evening.
-24-year-old Nicholas Twigg was arrested by state police on Monday for Criminal Trespassing.
-Caleb Rego, 26 was arrested by State Police on Monday for Possession of a Synthetic Drug.