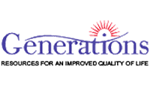 This holiday season, Generations is sponsoring its 8th annual Build*A*Basket project to help provide for the basic needs of its clients while bringing them some holiday cheer. Generations serves older adults in Daviess, Dubois, Greene, Knox, Martin and Pike counties. These older adults are on fixed incomes and often cannot afford the everyday necessities that many of us take for granted. A total of 755 baskets were turned in last year and delivered to individuals in need.
This project is open to schools, churches, businesses and individuals. It involves purchasing a plastic laundry basket and filling it with items such as dish soap, deodorant and toothpaste. Some individuals decorate their baskets to make them more festive.
Baskets must be completed by December 16. Participants will be given a drop off location prior to that date. Generations' Case Managers, Meals on Wheels drivers and volunteers will deliver the gift baskets to the clients.
To register for the project and to receive a complete list of basket items, contact Alma Kramer by calling 800-742-9002 or 812-888-4527.