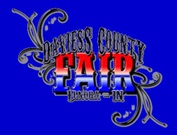 DAVIESS COUNTY FAIR BOOTH SPACE AVAILABLE
A great place to get exposure to your business is at the Daviess County Fair.
Booth space is available at the fair which runs June 20th through the 25th at the fairgrounds in Elnora.
You can set up a boot in the commercial building for a fee of $100.
You can can up on Monday the 20th from noon to 5. To reserve a spot, or for more information, contact Ann Craig at 812-384- 6977. You can also check out the fair's facebook page. Just look for Daviess County Fair INC.