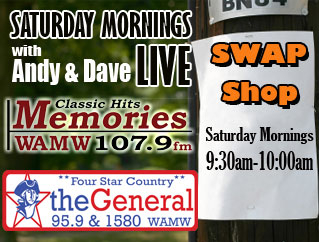 Cleaning out your garage, basement or are you looking to do some trading..
Tune in every Saturday morning at 9:30 for the Swap Shop on WAMW.
You can send us you items by using the form below.
Mail it in:
WAMW Swap Shop
800 West National Highway
Washington, Indiana 47501
Fax it:
812-254-3940
Call it in at 812-254-9269 or toll free 877-254-9269 Saturdays starting at 9:35am.
---
*No items will be taken over the phone prior to Saturday morning at 9:30am*
*All information submitted via the form below can be posted publicly on the Swap Shop Items page and or used on the air on WAMW during the Swap Shop show.*
---
---
Swap Shop Form
---
Submit your items for the Saturday Morning Live Swap Shop on WAMW-AM/FM