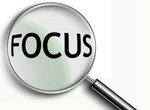 Focus On The Community is a 20 minute community affairs program hosted by Dave Crooks aired at 8:35 am on WAMW.
If you have a community topic that would appeal to WAMW's listeners and would like to be considered for an interview contact Dave Crooks by calling 812-254-6761 extension 222 or send and email.
Below are some of our past shows.
Focus On The Community Podcasts

Andy Morrison interviews Paul Goss, The Director Of Emergency Management for Daviess County and Bruce Clendenen with the Daviess County Amateur Radio Club about the role amateur radio plays in local emergency planning.
Continue Reading »