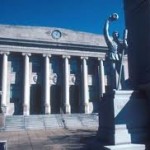 The Daviess County Commissioners met in their final meeting of 2014, Wednesday morning. Maintenance Supervisor Scott Schnarr gave an update on the much needed rennovations at courthouse. After Schnarr presented four potential firms, the Commissioners chose the of RQAW as the consultant on the renovation of the historic building.
County Attorney Grant Swartzentruber reported that INDOT had offered to sell excess property in the I-69 corridor. The Commissioners voted to a lot $123,548 for the purchase. Some of the ground will be used for required wetland mitigation, while three parcels could be used for future development.
In other business the Commissioners appointed township board members. Incumbents were reappointed to all positions except in Elmore Township where Linda Stites was appointed to fill the term of her late husband. The Commissioners noted there were still two openings on the County's aviation Board, and one opening on the Daviess Community Hospital Association.
In the report from the Highway Department, County Engineer Jason Heile reported on the speed audit on County Road 800 N, between, County Road 900 E and the Martin County line. Based on the audit by the Sheriff's Department, the hilly terrain, and the number of trucks using the road, Heile recommended the Commissioners post a speed limit of 45 mph on that stretch of road. The Commissioners unanimously agreed to the speed limit for that stretch of the road.